No car, no problem!
Leave your car at home and come by public transport. The nearest train station in Zell am See is only 20 km from Saalbach, so you can start your holiday right when you board – no traffic, no tailgaters on the motorway. You just have to jump on the 680 bus from Zell am See to Saalbach and get out at the Schattberg X-press. Then: You have to walk about 500 metres to "fuchs and gretl". To make your way easier, halfway you even have the option to enjoy a refreshing drink of your choice at the inn on the Dorfplatz.
In addition, with the JOKER CARD in the summer, you can use all public transport in the Pinzgau and in the winter all of the ski buses in the region without having to get your wallet out.
About the ski bus: You don't really need it, because the Bernkogelbahn, the Kohlmaisbahn and the Schattberg X-press are only a few minutes away on foot.
Super healthy and (nearly) Zero Waste
At "fuchs und gretl" you can enjoy a breakfast feast without a guilty conscience and won't be lacking a thing. Sweet or savoury? Our super-fresh Bowl Buffet offers regional and international superfoods, overnight oats, porridge bowls and fresh toppings for every taste. Hungry for more? You can order an individual breakfast tray with cheese and eggs from local farmers, smoked fish from the Saalbach fish pond, seasonal organic fruit and vegetables as well as meats and bacon from regional hunters. In this way we avoid food waste, ensure the best organic quality for everything that lands on your plate and through the short transport routes, minimize the carbon footprint of our delivery chain.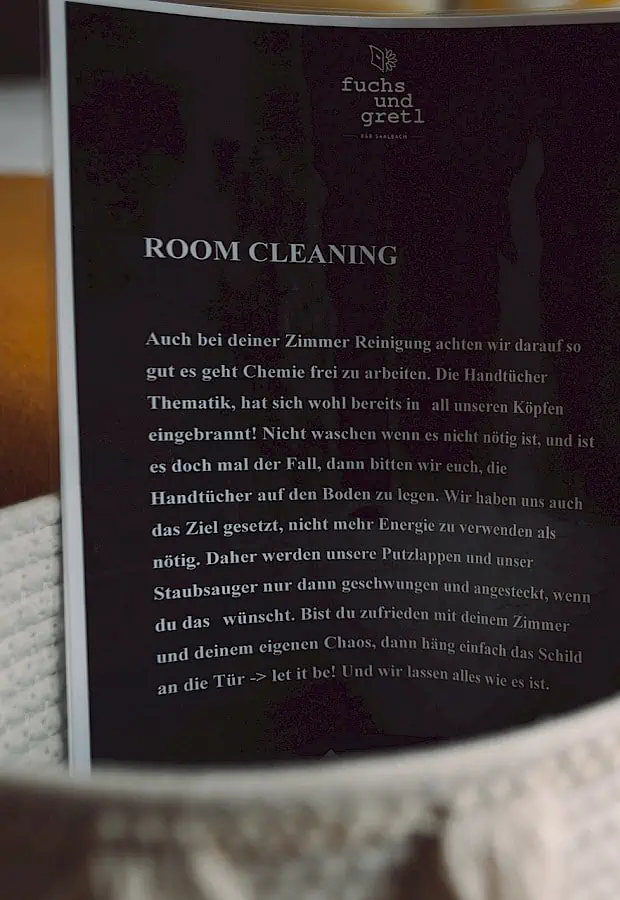 It's easier to read over there –>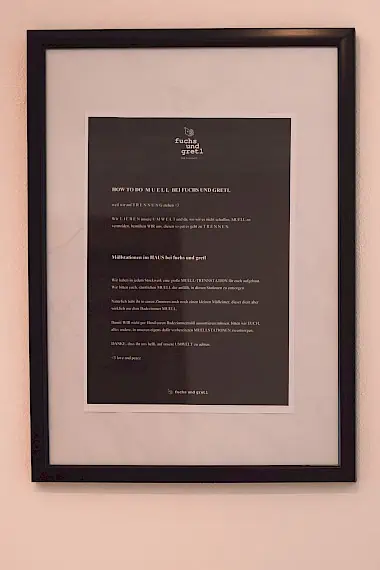 Greenwashing / Cleaning? Of course!
We clean our house with biodegradable cleaning tablets in refillable glass bottles and wash our clothes and yours with ecological washing powder packaged in paper. Indeed, even our detergents in the bike wash and the soap in your room are all natural.
Room Cleaning
When cleaning your room too, we make sure we work as chemical-free as possible. We have all heard how to save resources as far as towels are concerned: Don't wash if not necessary, and if they do need a wash, we ask you to put the towels on the floor. We also have the goal of saving energy as much as possible. That's why our cleaning cloths and vacuum cleaner are only used and plugged in if you desire it. If you are happy with your room and your own chaos, just hang the "let it be" sign on the door. And we'll leave everything as it is.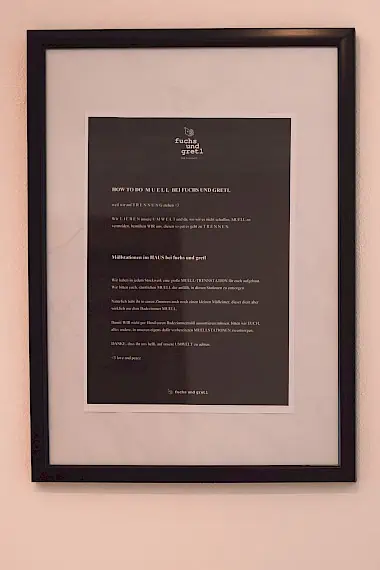 Mountains of waste? Not with us!
So as not to produce mountains of waste in the Pinzgauer Grasberge mountain region, for our purchases we use reusable containers whenever possible to reduce packaging waste. And we carefully separate and recycle the waste that can't be avoided. You'll find a waste separation station on every floor, so we would ask you kindly to be part of the WASTE SEPARATION TEAM in the fuchs & gretl. In order to counteract the flood of plastic waste, at "fuchs und gretl" we will lend you a free stainless steel water bottle to fill yourself. Our tap water tastes better than mineral water you buy. In addition, you have the option of making your own soda at the breakfast buffet with our Sodastream. ;-)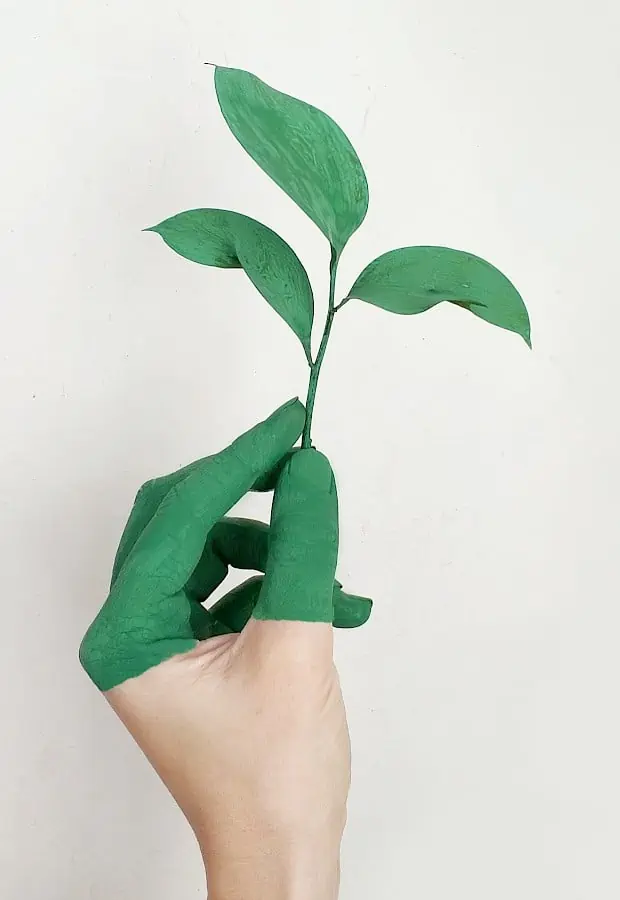 Green thumbs, green fingers - all green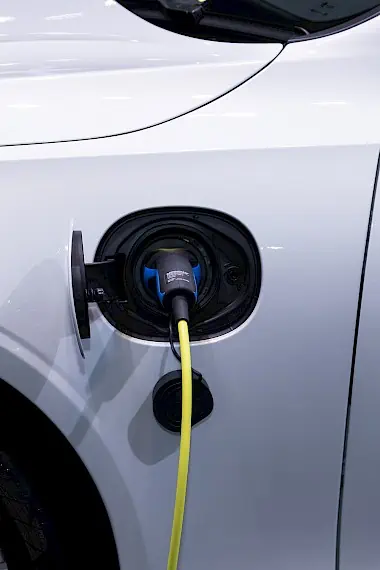 Good vibes and positive energy
The power from our outlets and for everything else you need power for comes 100% from renewable energy sources. We have also installed motion sensors, LED bulbs and energy saving switches throughout the house, to make living as energy efficient as possible. The "fuchs und gretl" was recently completely renovated and has an energy performance certificate.
Plug it in! and charge it up
We don't have a fancy E-car charging station, unfortunately. But we do have a heavy current cable that we can run to your car! So you can charge the batteries of your car with 100% ecological power and 100% free of charge.