A healthy feast on holiday in Austria
Breakfast delights. Conjured up in the "fuchs und gretl" kitchen. You'll find freshly prepared jams, all without sugar, hummus and other great spreads depending on the season and the whim of the chef. Fruit and vegetables and the best of the local bakery can't miss of course. Here there's some of everything and only the best!
About fruit, bowls and the bread fresh from the oven
Food lovers beware! We love to eat, all without a guilty conscience.
We try to keep our cuisine as clean as possible. Everything we serve, we either produce ourselves, or buy from the best local and sustainable sources. That's why our fresh, delicious bread only comes from MAMA or a baker we trust. We love it DIFFERENT, and that's why you WON'T find a classical breakfast buffet here with us.
Super fresh & super healthy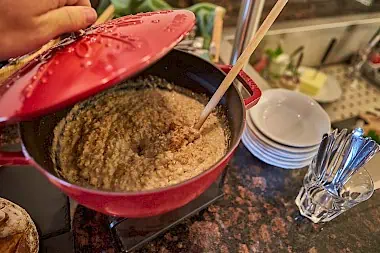 We offer a BOWL BUFFET with the following specials:
> Acai Bowl – never heard of it?? It's the SUPERBERRY which makes up a tasty foundation for a balanced breakfast experience.
> Porridge Bowl – Oatmeal, eeewwwww! NO! Not ours, this delicious new version has that something extra. Prepared with VEGAN MILK ALTERNATIVES or with your favourite MILK from the COW grazing happily in our neighbourhood, it tastes great with fantastic toppings of your choice, and is really nutritious. Pure ENERGY.
> Or try our Overnight Oats, with overnight linseed grist, a bit of yoghurt and a couple of cacao nibs as a topping. Fair Trade of course!
Not enough for you? Then order a breakfast tray with all of the extras your heart desires. Cheese from local alpine dairies, some ham and maybe an avocado? No problem. You can select your specials the day before for the next morning.

Every day DIFFERENT, every day INDIVIDUAL. That was only a short introduction on our idea of having breakfast. Check it out!